2017 Ford F-250 in Spokane WA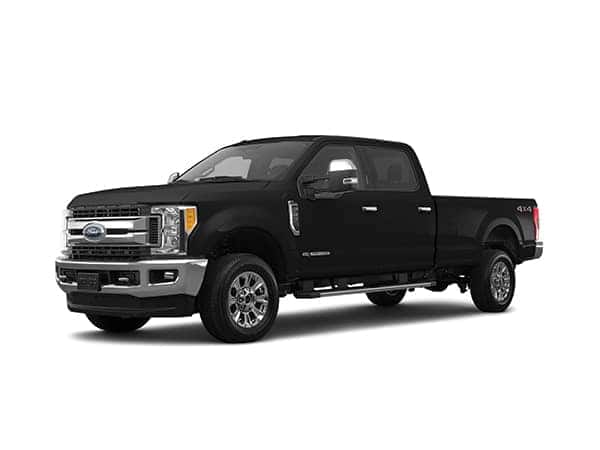 View Inventory
Overview
Towing a max load of up to 32,500Ibs, this SuperDuty truck has the confidence to get the job done. The 2017 F-250 is the most technologically advanced truck for its year and size, with smart technology like Adaptive Cruise Control and Collision Warning. It also gives you the confidence to attach long or heavy trailers with the Smart Trailer Tow Connector feature. Also, you don't have to worry about checking your trailer's tire pressure every time you leave with the Trailer Tire Pressure Monitoring System you get dash alerts when your tires start to get low. The F-250 gives you peace of mind with new technological advances that leave things easier for you at the end of the day. Call Dave Smith Spokane today to learn more about the F-250!
Drivetrain
The Drivetrain is the smoothest, quietest ride, providing a remarkable experience. The 6.7L Power Stroke V-8 Diesel Engine provides an incredible towing capacity of 15,000 pounds. With its performance it comes in at 15mpg which is reasonable for a diesel engine of its power capacity. The Drivetrain provides stopping power and steering that allows improved safety in dangerous situations. The F-250 is meant for both work performance and technological advances for the hardest working people.
A powerful work truck that has a smooth and quiet ride, what more could you want? The 6.7L power stroke V-8 Diesel engine gives the Ford F-250 an authoritative 15,000 lbs max towing capacity. The F-250 is a work truck with all the comfort and technological advances of a luxury vehicle.
Interior
Coming in nine interior cloth or leather materials, the F-250 has an abundance of design options. The seating is incredibly comfortable with 10-way-adjustable power seats. It also offers fold up seats in the back for additional storage of tools and supplies
2017 Ford F Series – 250 Trim Configuration and Trim Levels:
F-250 XL
2L SOHC 2-valve Gas V8 Flex Fuel E-85-capable engine
6 ¼' or 8' Box Size
40/20/40 Split front seat
Regular Cab
TorqShift-G 6-speed SelectShift® automatic transmission with tow/haul mode (F-250 with gas engine)
Alternator – 157-amp heavy-duty1 (gas engine)
Fuel tank – 29-gallon (142″ and 148″ WB with diesel engine)
Fuel tank – 48-gallon (176″ WB with diesel engine) O O Operator-commanded exhaust filter regeneration (diesel engine)
AM/FM stereo with 4 speakers (Regular Cab)
AM/FM stereo with 6 speakers (SuperCab/Crew Cab
AM/FM stereo/single-CD player with MP3 capability and 4 speakers (Regular Cab)
Cruise control
Display – 4.2″ LCD productivity screen in instrument cluster1
Individual Trailer TPMS1
Inflatable rear safety belts in outboard seating positions1 (Crew Cab)
Perimeter alarm
F-250 XLT
7L Power Stroke V8 Turbo Diesel B20-Capable engine with driver-controlled engine exhaust braking
6 ¼' or 8' Box Size
40/20/40 Split front seat
Regular Cab
TorqShift-G 6-speed SelectShift® automatic transmission with tow/haul mode (F-250 with gas engine)
TorqShift® 6-speed SelectShift automatic transmission with tow/haul mode (F-250 with diesel engine and F-350/F-450)
Alternator – 157-amp heavy-duty1 (gas engine)
Fuel tank – 29-gallon (142″ and 148″ WB with diesel engine)
Fuel tank – 34-gallon (142″ and 148″ WB with gas engine; 160″ and 164″ WB)
Fuel tank – 48-gallon (176″ WB with diesel engine) O O Operator-commanded exhaust filter regeneration (diesel engine)
AM/FM stereo/single-CD player with MP3 capability and 4 speakers (Regular Cab)
Cruise control
Display – 8″ configurable color LCD productivity screen in instrument cluster
Moonroof – Power, single-panel (SuperCab)
Individual Trailer TPMS1
Inflatable rear safety belts in outboard seating positions1 (Crew Cab)
Perimeter alarm
F-250 Lariat
7L Power Stroke V8 Turbo Diesel B20-Capable engine with driver-controlled engine exhaust braking
6 ¼' or 8' Box Size
40/20/40 Split front seat Option
40/console/40 Front Bucket Seats Standard
Super Cab Available
Crew Cab Available
TorqShift-G 6-speed SelectShift® automatic transmission with tow/haul mode (F-250 with gas engine)
TorqShift® 6-speed SelectShift automatic transmission with tow/haul mode (F-250 with diesel engine and F-350/F-450)
Alternator – 200-amp extra-heavy-duty1 (gas engine)
Alternator – 220-amp extra-heavy-duty1 (diesel engine)
Fuel tank – 29-gallon (142″ and 148″ WB with diesel engine)
Fuel tank – 34-gallon (142″ and 148″ WB with gas engine; 160″ and 164″ WB)
Fuel tank – 48-gallon (176″ WB with diesel engine) O O Operator-commanded exhaust filter regeneration (diesel engine)
Audio System from Sony® with AM/FM stereo/single-CD player with MP3 capability, 10 speakers and HD Radio™ Technology
Voice-activated Navigation System with integrated SiriusXM Traffic and Travel Link® with 5-year subscription1
Climate control – Dual-zone electronic automatic temperature control
Cruise control
Display – 8″ configurable color LCD productivity screen in instrument cluster
Moonroof – Power, single-panel (SuperCab)
Individual Trailer TPMS1
Inflatable rear safety belts in outboard seating positions1 (Crew Cab)
Perimeter alarm
F-250 King Ranch
7L Power Stroke V8 Turbo Diesel B20-Capable engine with driver-controlled engine exhaust braking
6 ¼' or 8' Box Size
40/console/40 Front Bucket Seats
Crew Cab Standard
TorqShift-G 6-speed SelectShift® automatic transmission with tow/haul mode (F-250 with gas engine)
TorqShift® 6-speed SelectShift automatic transmission with tow/haul mode (F-250 with diesel engine and F-350/F-450)
Alternator – 200-amp extra-heavy-duty1 (gas engine)
Alternator – 220-amp extra-heavy-duty1 (diesel engine)
Fuel tank – 34-gallon (142″ and 148″ WB with gas engine; 160″ and 164″ WB)
Fuel tank – 48-gallon (176″ WB with diesel engine) O O Operator-commanded exhaust filter regeneration (diesel engine)
Audio System from Sony® with AM/FM stereo/single-CD player with MP3 capability, 10 speakers and HD Radio™ Technology
Voice-activated Navigation System with integrated SiriusXM Traffic and Travel Link® with 5-year subscription1
Climate control – Dual-zone electronic automatic temperature control
Cruise control
Display – 8″ configurable color LCD productivity screen in instrument cluster
Moonroof – Power, twin-panel1 (Crew Cab)
Individual Trailer TPMS1
Inflatable rear safety belts in outboard seating positions1 (Crew Cab)
Perimeter alarm
F-250 Platinum
7L Power Stroke V8 Turbo Diesel B20-Capable engine with driver-controlled engine exhaust braking
6 ¼' or 8' Box Size
40/console/40 Front Bucket Seats
Crew Cab Standard
TorqShift-G 6-speed SelectShift® automatic transmission with tow/haul mode (F-250 with gas engine)
TorqShift® 6-speed SelectShift automatic transmission with tow/haul mode (F-250 with diesel engine and F-350/F-450)
Alternator – 200-amp extra-heavy-duty1 (gas engine)
Alternator – 220-amp extra-heavy-duty1 (diesel engine)
Fuel tank – 34-gallon (142″ and 148″ WB with gas engine; 160″ and 164″ WB)
Fuel tank – 48-gallon (176″ WB with diesel engine) O O Operator-commanded exhaust filter regeneration (diesel engine)
Audio System from Sony® with AM/FM stereo/single-CD player with MP3 capability, 10 speakers and HD Radio™ Technology
Voice-activated Navigation System with integrated SiriusXM Traffic and Travel Link® with 5-year subscription1
Climate control – Dual-zone electronic automatic temperature control
Cruise control
Display – 8″ configurable color LCD productivity screen in instrument cluster
Moonroof – Power, twin-panel1 (Crew Cab)
Individual Trailer TPMS1
Inflatable rear safety belts in outboard seating positions1 (Crew Cab)
Perimeter alarm
Call us at: (509) 228-7322